Marler Clark is investigating multistate Salmonella Newport outbreak linked to red onions sourced by Thomson International, inc. To date, Salmonella lawyers at this law firm represent over 40 victims sickened by this outbreak.
As of October 6, 2020, a total of 1,127 people infected with the outbreak strain of Salmonella Newport had been reported from 48 states.
People infected with the outbreak strain of Salmonella Newport by state of residence, as of October 6, 2020 (n=1,127)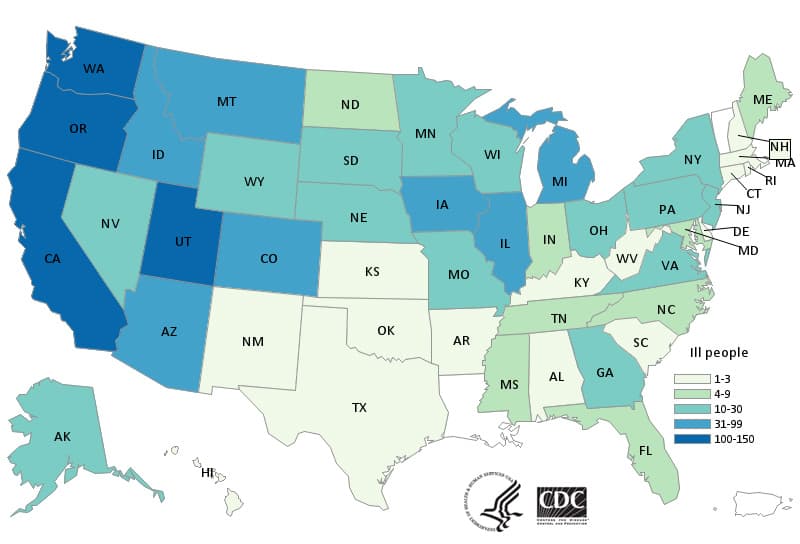 Illnesses started on dates ranging from June 19, 2020, to September 11, 2020. Ill people ranged in age from less than 1 to 102 years, with a median age of 41. Fifty-eight percent of ill people were female. Of 705 ill people with information available, 167 hospitalizations were reported. No deaths were reported.
People infected with the outbreak strain of Salmonella Newport by date of illness onset*

As of September 14, 2020, there had been 515 confirmed cases of Salmonella Newport illness linked to this outbreak in Canada. The following provinces have reported cases: British Columbia (121), Alberta (293), Saskatchewan (35), Manitoba (26), Ontario (14), Quebec (25) and Prince Edward Island (1).
Individuals became sick between mid-June and early August 2020. Seventy-nine individuals were hospitalized. Individuals who became ill were between 1 and 100 years of age. The majority of cases (54%) were female.
Whole-genome sequencing analysis shows that an outbreak of Salmonella Newport infections in Canada was related genetically to this outbreak in the United States. This means that people in both of these outbreaks were likely to share a common source of infection. Their investigation identified red onions from Thomson International Inc. as the likely source of their outbreak.
In the United States, thirty-four illness clusters were identified in 13 states. Information was collected on 23 of the 34 clusters at restaurants and grocery stores. The traceback information collected from several of these illness clusters identified Thomson International, Inc., of Bakersfield, California, as a likely source of red onions. Due to the way onions are grown and harvested, other onion types, such as white, yellow, or sweet yellow, were also likely to be contaminated.
On August 1, 2020, Thomson International, Inc., voluntarily recalled red, yellow, white, and sweet yellow onions because they may be contaminated with Salmonella. Several other companies also recalled the tainted onions. See the full list of the recalled products on the CDC site.
On August 5, 2020, the United States Department of Agriculture's Food Safety and Inspection Service (USDA-FSIS) issued a public health alert for products made with recalled onions. Check the alert for product details.
On August 6, 2020, Taylor Farms issued a recall of foods that were made from recalled onions.
As of October 8, 2020, this outbreak appears to be over.