What is Salmonella?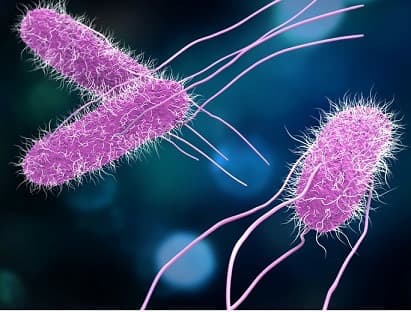 Salmonella is a bacterium that causes one of the most common enteric (intestinal) infections in the United States – salmonellosis. The term Salmonella refers to a group or family of bacteria that variously cause illness in humans. Salmonella serotype typhimurium and Salmonella serotype enteritidis are the most common in the United States. The CDC estimates that 1.4 million cases, 15,000 hospitalizations, and 400 deaths are caused by Salmonella infections in the U.S. every year.
What Foods have been Implicated in Salmonella Outbreaks?
Most Salmonella infections are caused by eating contaminated food, especially food from animal origins. One study found that 87% of all confirmed cases of Salmonella were foodborne, with 10% from person-to-person infection and 3% caused by pets.
Among single foods implicated in Salmonella outbreaks, a large number were foods that contained raw eggs (e.g., homemade ice cream, Caesar salad dressing, tiramisu, egg nog) or eggs that were under or lightly cooked (e.g., hollandaise sauce, meringue, cream pies). Other Salmonella outbreaks have also been linked with poultry (chicken or turkey), with beef, and with foods containing shrimp, bologna, pork, and pepper loaf. Other implicated foods included potatoes, beans, desserts, salad, macaroni and cheese, cheese sauce, goat cheese, chili, and sprouts.
What are the Symptoms of a Salmonella infection?
Salmonella infections can have a broad range of illness, from no symptoms to severe illness. The most common clinical presentation is acute gastroenteritis. Symptoms include diarrhea, and abdominal cramps, often accompanied by fever of 100°F to 102°F (38°C to 39°C). Other symptoms may include bloody diarrhea, vomiting, headache and body aches. The incubation period, or the time from ingestion of the bacteria until the symptoms start, is generally 6 to 72 hours.
What are the Complications of a Salmonella Infection?
In approximately 5% of non-typhoidal infections, patients develop bacteremia. In a small proportion of those cases, the bacteria can cause a focal infection, where it becomes localized in a tissue and causes an abscess, arthritis, endocarditis, or other severe illness. Infants, the elderly, and immune-compromised persons are at greater risk for bacteremia or invasive disease. Overall, approximately 20% of cases each year require hospitalization, 5% of cases have an invasive infection, and one-half of 1% die. Infections in infants and in people 65 years of age or older are much more likely to require hospitalization or result in death.
What steps can be taken to prevent a Salmonella infection:
In general, safe cooking and preparation of food can kill existing Salmonella bacteria and prevent it from spreading. Additionally, safe choices at the grocery store can greatly reduce the risk of Salmonella.
Always wash your hands before you start preparing food.
Cook poultry until it reaches an internal temperature of 165 ºF.
Cook beef and pork until they reach 160ºF. High quality steaks (not needle or blade tenderized) can be safely cooked to 145ºF.
Cook eggs until they reach 160ºF or until the yoke is solid. Pasteurized eggs are available in some grocery stores.
Do not eat or drink foods containing raw eggs. Examples include homemade eggnog, hollandaise sauce, and undercooked French toast.
Never drink raw (unpasteurized) milk.
Avoid using the microwave for cooking raw foods of animal origin. Microwave-cooked foods do not reach a uniform internal temperature, resulting in undercooked areas and survival of Salmonella.
If you are served undercooked meat, poultry, or eggs in a restaurant don't hesitate to send your food back to the kitchen for further cooking.
Avoid cross-contamination. That means that you should never allow foods that will not be cooked (like salads) to encounter raw foods of animal origin (e.g., on dirty countertops, kitchen sinks, or cutting boards). Wash hands, kitchen work surfaces, and utensils with soap and water immediately after they have been in contact with raw foods of animal origin.
Wash hands with soap after handling reptiles, amphibians, or birds, or after contact with pet feces. Infants and persons with compromised immune systems should have no direct or indirect contact with such pets.
Reptiles, amphibians or birds, or any elements of their housing (such as water bowls) should never be allowed in the kitchen.
Avoid eating in animal barns and wash your hands with soap and water after visiting petting zoos or farm settings.
Always wash your hands after going to the bathroom. The hands of an infected person who did not wash his or her hands adequately after using the bathroom may also contaminate food.
Marler Clark Salmonella Lawyers, Salmonella Attorneys