Marler Clark represents 100 of the victims in this current Cyclospora bagged salad outbreak.
On June 26, 2020, the FDA and CDC and several local health officials, announced a multi-state investigation of a Cyclospora outbreak connected to bagged "garden salads", sold at Walmart, ALDI, Hy-Vee and Jewel-Osco grocery stores.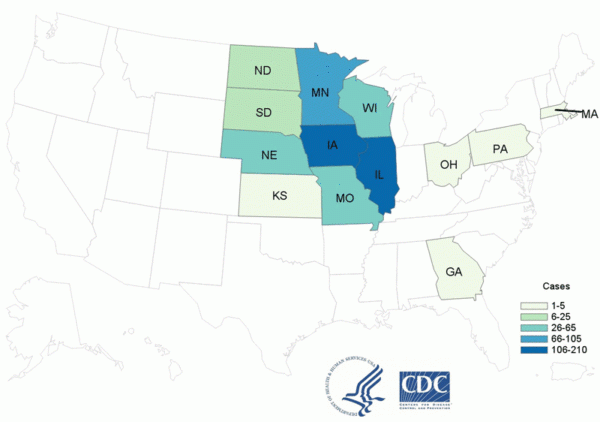 According to the US FDA and CDC, 690 laboratory-confirmed Cyclospora infections associated with this Fresh Express outbreak have been reported from 13 states: Georgia (1), Illinois (209), Iowa (206), Kansas (5), Massachusetts (1), Minnesota (86), Missouri (57), Nebraska (55), North Dakota (6), Ohio (4), Pennsylvania (2), South Dakota (13), and Wisconsin (45). The ill person from Georgia purchased and ate a bagged salad product while traveling in Missouri. Illnesses started on dates ranging from May 11, 2020, to July 20, 2020. Ill people range in age from 10 to 92 years with a median age of 57; 51% are female. Of 680 people with available information, 37 people (5%) have been hospitalized.
In Canada, as of July 8, 2020, there are 37 confirmed cases of Cyclospora illness linked to this outbreak in three provinces: Ontario (26), Quebec (10) and Newfoundland and Labrador (1). Individuals became sick between mid-May and mid-June 2020. One individual has been hospitalized. No deaths have been reported. Individuals who became ill are between 21 and 70 years of age. The majority of cases (76%) are female.
Epidemioligic and traceback investigations indicate that bagged salad mix containing iceberg lettuce, carrots, and red cabbage produced by Fresh Express is the likely source of this outbreak. Fresh Express has recalled several varieties of coleslaw salad sold in retail grocery stores from June 6,2020 to June 26,2020.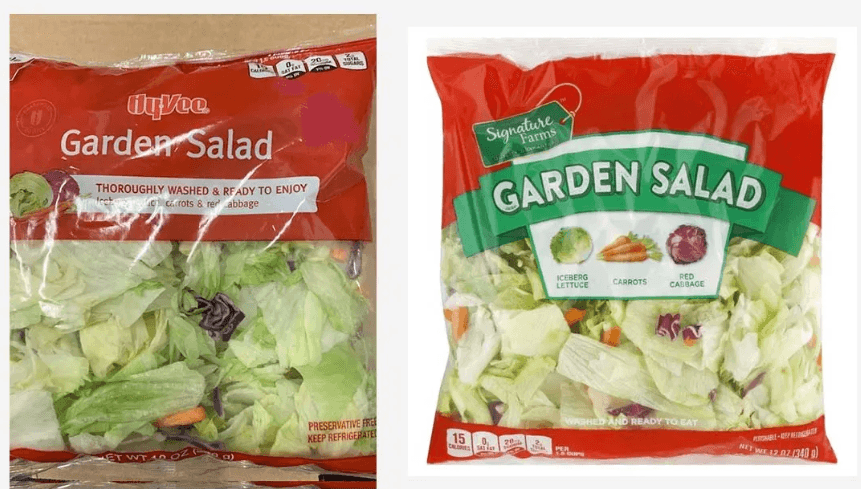 Bagged salad mix potentially contaminated with Cyclospora were distributed in the following states: Arkansas, Connecticut, Delaware, Iowa, Illinois, Indiana, Kansas, Kentucky, Massachusetts, Maryland, Maine, Michigan, Minnesota, Missouri, Montana, North Carolina, North Dakota, Nebraska, New Jersey, New York, Ohio, Oklahoma, Pennsylvania, Rhode Island, South Dakota, Tennessee, Virginia, Vermont, Wisconsin, West Virginia and the District of Columbia.
Additionally, the Public Health Agency of Canada is investigating an outbreak of Cyclospora infections occurring in three Canadian provinces where exposure to certain Fresh Express brand salad products containing iceberg lettuce, carrots and red cabbage, has been identified as a likely source of the outbreak.

Traceback investigations by FDA suggest that the Streamwood, Illinois Fresh Express production facility is the likely producer of the bagged salad mixes eaten by ill people. FDA has begun an inspection at this facility. CDC and FDA continue to investigate to determine which ingredient or ingredients in the salad mix was contaminated and whether other products are a source of illnesses.

What is Cyclospora?
The ingestion of cyclospora parasites causes cyclosporiasis, an infection that is characterized by the following symptoms:
watery diarrhea
loss of appetite
weight loss
bloating
cramping
increased gas
nausea
fatigue
Most people who have healthy immune systems will recover from cyclosporiasis without treatment.
Cyclospora: Marler Clark, The Food Safety Law Firm, is the nation's leading law firm representing victims of Cyclospora outbreaks. The Cyclospora Attorneys and Lawyers have represented victims of Cyclospora and other foodborne illness outbreaks and have recovered over $700 million for clients. Marler Clark is the only law firm in the nation with a practice focused exclusively on foodborne illness litigation.
If you or a family member became ill with a Cyclospora infection after consuming food and you are interested in pursuing a legal claim, contact the Marler Clark Cyclospora attorneys for a free case evaluation at 866-770-2032.