At least 41 people infected with the outbreak strain of Salmonella Stanley have been reported in ten states. An edible fungus, often called wood ear mushroom, seems to be linked to the outbreak. As of September 24, 2020, Salmonella cases were reported in Arizona (1), California (25), Connecticut (1), Georgia (1), Illinois (5), Louisiana (1), New Jersey (2), New York City (1), Pennsylvania (2) and Wisconsin (2).
Epidemiologic evidence and traceback investigations point to wood ear mushrooms, distributed by Wismettac Asian Foods Inc., as the likely source of the Salmonella illnesses. These mushrooms, often referred to as Kikurage, Dried Black Fungus, or Mu'er/Mu Er/Mu-Err, were distributed to restaurants in 32 states as well as Canada.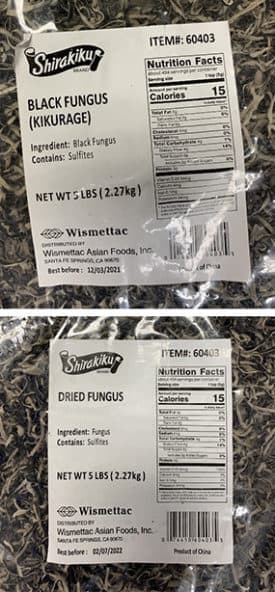 Ill people were interviewed about what they had eaten and other exposures in the week prior to their illness. Of the eighteen people interviewed, 16 reported eating ramen at a restaurant in the week before the symptoms began. Many of the victims reported eating at the same ramen restaurants, demonstrating that they may all be part of the same illness clusters.
Illnesses started on dates ranging from January 21, 2020, to August 26, 2020. Females represent sixty-two percent of those ill with the median age of those sickened being 27. Of the 32 interviewed, four people were hospitalized. No deaths have been reported at this time.
FDA and local health officials are conducting a traceback investigation to help identify the source of the tainted wood ear mushrooms. At this time, records indicate that illness cluster restaurants were supplied with wood ear mushrooms (dried fungus) by Wismettac Asian Foods, Inc..
California health investigators found the Salmonella in samples of the dried fungus which prompted a recall of all Shirakiku mushrooms imported by Wismettac Asian Foods, Inc.
Illnesses may still be reported as it takes an average of two to four weeks for Salmonella to become symptomatic.
Marler Clark, The Food Safety Law Firm, is the nation's leading law firm representing victims of Salmonella outbreaks. The Salmonella lawyers of Marler Clark have represented thousands of victims of Salmonella and other foodborne illness outbreaks and have recovered over $700 million for clients. Marler Clark is the only law firm in the nation with a practice focused exclusively on foodborne illness litigation. Our Salmonella lawyers have litigated Salmonella cases stemming from outbreaks traced to a variety of foods, such as cantaloupe, tomatoes, ground turkey, salami, sprouts, cereal, peanut butter, and food served in restaurants. The law firm has brought Salmonella lawsuits against such companies as Cargill, ConAgra, Peanut Corporation of America, Sheetz, Taco Bell, Subway and Wal-Mart.
Marler Clark has represented countless Salmonella victims and is the only firm in the nation with a practice focused exclusively on plaintiff foodborne illness litigation.

If you or a family member became ill with a Salmonella infection, including Reactive Arthritis or Irritable bowel syndrome (IBS), after consuming food and you're interested in pursuing a legal claim, contact the Marler Clark Salmonella attorneys for a free case evaluation. You can fill out the contact form or call toll-free at 800-884-9840.