As of February 14, 2020, a total of 165 people infected with the outbreak strain of Salmonella Javiana have been reported from 14 states – CA, CO, CT, DE, FL, GA, IL, MA, MN, NJ, NY, PA, VA, and WA.
Illnesses were reported from states where Tailor Cut Produce distributes, including Pennsylvania, New York City, New Jersey, and Delaware. Ill people from the other 10 states reported traveling to one of these 4 states in the week before their illness started.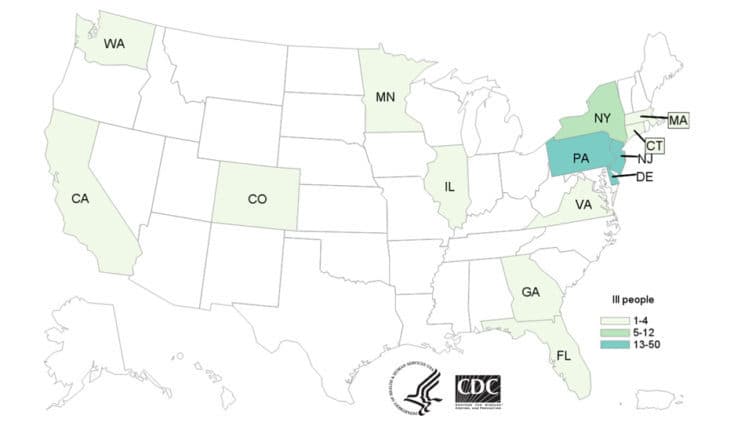 Seventy three individuals required hospitalization. No deaths have been reported. Illnesses started on dates ranging from November 7, 2019 to January 11,2020. Those who became ill range in age from 1 to 92, with a median age of 44 years old. Fifty-three percent of ill people were female.
Local and state public health officials interviewed ill people to help identify what they had eaten in the week prior to the onset of their symptoms. Ninety four percent reported eating cut fruit served in long-term care facilities, hospitals, hotels or schools. In addition, many purchased cut fruit from multiple locations of a grocery store chain.
State officials gathered records fom locations that served or sold cut fruit to those who became ill and determined that Tailor Cut Produce had provided the fruit to all of the locations. A recall by Tailor Cut Produce was announced on December 7,2019. The recall included Fruit Luau, a cut fruit mix with honeydew melon, cantaloupe, and pineapple.
FDA officials in partnership with the CDC inspected the Tailor Cut Produce facility in New Jersey and conducted a trace back investigation of the cut fruit. Tailor Cut Produce was identified as the common processor, but the source of the contamination was not identified. The inspectors identified several concerns at the Tailor Cut Produce facility and determined that the firm did not maintain the plant in a clean and sanitary condition or conduct repairs. The outbreak appears to be over at this time.
Most people infected with Salmonella develop diarrhea, fever, and stomach cramps 12 to 72 hours after being exposed to the bacteria.
The illness usually lasts 4 to 7 days, and most people recover without treatment.
In some people, the illness may be so severe that the patient needs to be hospitalized. Salmonella infection may spread from the intestines to the bloodstream and then to other places in the body.
Children younger than 5 years, pregnant women, adults 65 and older, and people with weakened immune systems are more likely to have severe illness.