Cyclospora cayetanensis is a unicellular, microscopic parasite that can cause food- or water-related gastrointestinal illness. Cyclospora cannot be transmitted directly from one person to another through infected fecal matter; the parasite must complete part of its lifecycle outside of a host. Most cases of cyclosporiasis occur in underdeveloped tropical and subtropical regions of the world where the parasite is endemic.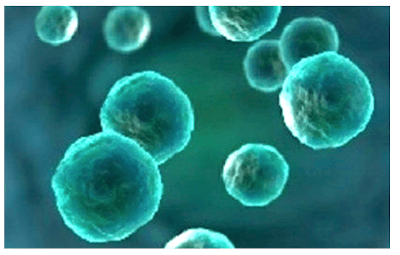 In the United States, Cyclospora causes about 11,000 illnesses and 11 hospitalizations, but infestations of this parasite do not typically result in death. Due to the self-limiting nature of the pathogen (which causes some people to not seek medical care), difficulty in diagnosing it specifically, and other factors, the Centers for Disease Control and Prevention (CDC) estimates that there could be very broad ranges of infection, from 140 to 38,000 annual cases. In North America, outbreaks of cyclosporiasis in humans have been reported mostly from contaminated fresh food products, such as soft fruits (raspberries, blackberries, and strawberries), leafy vegetables (lettuce and mixed salad), and herbs (basil and cilantro). Soil is another possible infection source, particularly in areas with poor environmental sanitation.
Cyclosporiasis is usually diagnosed symptomatically in clinical settings, including the presence of watery diarrhea, abdominal cramping, and bloating. In untreated, immunocompetent people, the diarrhea can last from days to weeks to a month or more and can wax and wane, with variable oocyst shedding. Oocysts can continue to be shed (intermittently or continuously) by non-symptomatic people, and symptoms can also persist in the absence of oocysts in feces. In a clinical context, conventional diagnosis usually involves microscopic examination of intestinal tissue biopsy sections, stool samples for the presence of developmental stages of Cyclospora, or advanced molecular testing for DNA. Improved specificity and sensitivity have been possible largely through the use of PCR (polymerase chain reaction), which enables the specific amplification of genetic loci from tiny amounts of genomic DNA of Cyclospora. Because of the intermittent nature of oocyst shedding and the low numbers of this stage in feces, it is recommended that multiple stool samples be collected at 2-3 day intervals over a period of more than a week, to increase the likelihood of identifying the disease microscopically.
Cyclospora infection is typically self-limited but may be prolonged and accompanied by progressive fatigue and weight loss. According to the CDC, the recommended treatment is a combination of two antibiotics: trimethoprim-sulfamethoxazole, also known as Bactrim, Septra, or Cotrim. It is advisable for people who have diarrhea to also rest and drink plenty of fluids. No equally effective treatments have been identified yet for people with Cyclospora infection who are unable to take sulfa drugs, such as those with allergies, pregnant or breastfeeding women, or pediatric patients. Some experimental studies, however, have suggested that ciprofloxacin or nitazoxanide may be effective, although