The outbreak appears to have begun in November of 2016.
As of March 9, 2020, 36 people infected with the outbreak strain of Listeria monocytogenes were reported from 17 states. Sun Hong Foods, Inc. recalled enoki mushrooms due to potential contamination with Listeria monocytogenes bacteria and a link to the reported illnesses. The CDC, public health officials and the U.S. Food and Drug Administration(FDA) have completed their investigation of a multistate outbreak of Listeria monocytogenes linked to enoki mushrooms and reported their findings.

In addition to 31 hospitalizations, four deaths were reported in three states, California, Hawaii and New Jersey. Six pregnant women became ill and of these, two reported the loss of the fetus.
Health officials collected samples of sickened people from November 23, 2016 to December 13, 2019. Those ill range in age from 1 to 96, with the median age being 67. Women who became ill represented fifty eight percent of the reported cases.
People infected with the outbreak strain of Listeria monocytogenes, by state of residence, as of June 9, 2020 (n=36)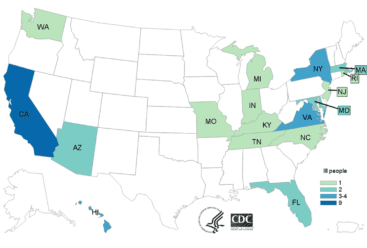 The number of ill people in each state is as follows:
Arizona(2),California(9),Florida(2),Hawaii(3),Indiana(1),Kentucky(1),
Maryland(2),Massachusetts(2),Michigan(1),Missouri(1),Nevada(1),
New Jersey(1),New York(4),North Carolina(1),
Rhode Island(1),Tennessee(1)and Virginia(3),Washington(1).
Public health investigators used the PulseNet system to identify illnesses that were part of this outbreak. PulseNet is the national subtyping network of public health and food regulatory agency laboratories coordinated by CDC. DNA fingerprinting is performed on Listeria bacteria isolated from ill people by using a standardized laboratory and data analysis method called whole genome sequencing (WGS). CDC PulseNet manages a national database of these sequences that are used to identify possible outbreaks. WGS gives investigators detailed information about the bacteria causing illness. In this investigation, WGS showed that bacteria isolated from ill people were closely related genetically. This means that people in this outbreak were likely to share a common source of infection.
Epidemiologic, traceback, and laboratory evidence showed that enoki mushrooms supplied by Green Co. LTD, located in the Republic of Korea, were the likely source of this outbreak. Product Distribution: CA, FL, IL, NY, MD, OR, PA, TX, VA and WA.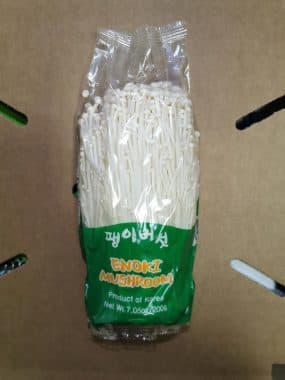 The enoki mushrooms collected by the FDA and state officials from a grocery store where ill people shopped revealed that there were two samples, distributed by Sun Hong Foods, Inc., and labeled "Product of Korea", that had the outbreak strain. The California Department of Public Health collected enoki mushrooms from grocery stores and identified the outbreak strain in one sample. These mushrooms were labeled as "Product of Korea" and were distributed by Guan's Mushroom Co. On March 23, 2020, Guan's Mushroom Co. recalled enoki mushrooms. FDA collected samples of enoki mushrooms for testing at import from Green Co. LTD of the Republic of Korea. On April 6, 2020, results showed that two samples yielded the outbreak strain of Listeria monocytogenes. As a result, on April 7, 2020, FDA placed Green Co. LTD on Import Alert and H&C Foods Inc. recalled enoki mushrooms supplied by Green Co. LTD.

The Korean Ministry of Food and Drug Safety published its investigation findings on March 18, 2020, and provided the steps it will take to prevent future illnesses. It found Listeria monocytogenes in enoki mushrooms produced by two firms in the Republic of Korea.
Recalled enoki mushrooms are past their shelf life and should not be available for sale. As of June 9, 2020, this outbreak appears to be over.

Symptoms of Listeria monocytogenes usually begin one to four weeks after eating the contaminated food. However, those who become ill have reported symptoms as early as one to seventy days after consuming the tainted food.
What are symptoms of Listeria monocytogenes?
· Fever
· Muscle ache
· Nausea or diarrhea
What are the symptoms if the infection spreads to the nervous system?
· Headache
· Stiff neck
· Confusion
· Loss of balance
· Convulsions
Pregnant women experience mild, flu-like symptoms. However, Listeria infection during pregnancy can lead to miscarriage, infection of the newborn, or stillbirth.
The Marler Clark Listeria lawyers have unmatched experience representing victims of Listeria. Our Listeria lawyers have represented thousands of victims of notable Listeria outbreaks such as the 2011 Jensen Farms Listeria outbreak where over 33 people died, the 2010 Sangar Fresh Cut Produce Listeria outbreak, the 2007 Whittier Farms Listeria outbreak, the 2012 Marte brand Fescolina ricotta salata cheese Listeria outbreak, the 2016 Dole Lettuce Listeria outbreak and the 2017 Vulto Creamery Listeria outbreak. We are presently assisting in a Listeria outbreak in South Africa that sickened over 1,000 and killed over 200.

If you or a family member became ill with a Listeria infection, after consuming food and you're interested in pursuing a legal claim, contact the Marler Clark Listeria attorneys for a free case evaluation.
Fill out the contact form or call toll-free at 866-770-2032 to speak with an attorney at no cost to you.